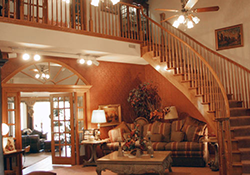 Unlimited, Inc provides services in all aspects of remodels and upgrades including disaster restorations to make it all like new again.
Since Unlimited, Inc. is a complete construction, fabrication and installation company, we are capable of dealing with a full range of services including renovation, project management and design services.
We can work with, or as your, General Contractor for the differing requirements of your project such as:
Residential Home & Commercial Renovations
Design Consultation
Plumbing & Plumbers
Electrician & Electrical
Kitchen Renovations
Home Theaters & Game Rooms
Heating & Cooling Repair
Bathroom Renovations
Painting & Drywall
Workout Rooms, Gyms & Saunas
Interior & Exterior Doors & Windows
Ceiling Install & Repair
Disaster Repair & Demolition Services for Fire, Flood, Tornado & Insurance Claims Work
Tile & Tiling
Framing, Trim & Finish Carpentry
Insulation, Insulating & Sealing for Heating & Air Conditioning (HVAC) Energy Savings
Green Products, Services & Installs for Sustainable Building Efficiency
Call 405.820.3170 or let us provide you with a quote so you may judge for yourself.