When he established his original highly successful construction enterprise, Prism Solid Surface, in 1986 Kirk Muckelrath had been in the business of cabinet and countertop fabrication for almost ten years. At that time, having built a reputation for high quality artistic craftsmanship, he made a decision to offer the best product and service to his customers and, before selling it in 2005, built Prism into the largest solid surface fabricator in the state of Oklahoma.
Now with over 30 years of experience, he says, "That was our business plan and it still is." And it's paying off in the fact that after starting Unlimited, Inc. in 2006, we are now growing to become a leading construction fabricator and installer that is solidly expanding its business by working with architects, custom builders, commercial contractors, universities, military, hospitals and healthcare professionals.
A number of unusual jobs we've done are a home with $60,000 in showers and counter tops and the Liberty Tower project in Oklahoma City with its Corian® columns, wainscot, and custom moldings which is a fine example of solid surface on commercial installations.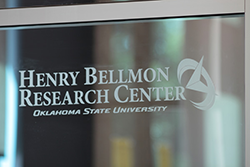 And most recently, the installation of laboratory casework and equipment in the four story state-of-the-art Henry Bellman Research Center teaching and research facility at Oklahoma State University.
Unlimited, Inc. is dedicated to providing our customers with excellent highly skilled services and products constructed, fabricated and installed to the highest standards with a commitment to affordable quality, service and value. Let us provide you with a quote so you may judge for yourself.