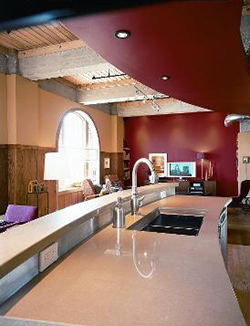 Each project whether it be commerical construction, home addition, renovation, remodeling or repair, opens a multitude of factors and questions for all who undertake such a project. Below are a few of the most common questions and answers we receive that may be of help in your project and decision making.
Q. How much is it going to cost? (Room Additions, Remodels, New Construction)
A. This is always a good question. A number of factors come into play as each project is unique and many conditions can affect the price. Detailed sets of plans are essential and must be developed for proper and most accurate pricing. Without drawings for us to quantify, we can only have an educated guess of what it will cost and are able to provide only a rough estimate. The cost is based on materials and labor facts not guesses and you the client, not only deserve to know the final cost – you should demand it so you can best determine what you're getting to make certain you are comparing identical specifications in your estimates and quotes.
Q. What if my property needs emergency repairs?
A. Unlimited, Inc. will immediately perform any form of temporary measures necessary to prevent further damage. This includes but is not limited to repairs pertaining to floods, fires, vehicle impacts, wind or other related emergency repairs. We are abe to serve you in the event of an emergency and our emergency services stand ready to handle your emergency. Please call 405.820.3170 or email us.
Q. What's the difference between a company that specializes in insurance restoration work and a home improvement company?
A. Addressing all of the insurance restoration issues is usually very complex and time consuming. Many home improvement companies tend to avoid the burden of dealing with the complexities of working with insurance companies.
While we may not initially contact your insurance company to report a loss, this must only be done by the Insured. The handling of a claim with insurance companies during the process of repair and/or reconstruction is a significant specialty of Unlmited, Inc. and we have handled literally hundreds of claims.
Q. What is your response time?
A. Unlimited, Inc. is readily available to respond to your restoration emergency. Response time will vary based on location but our goal is to be on-site as soon as possible from initial notification.
Q. I've had water damage to my home. What do I do now?
A. Contact us immediately (405.820.3170) so we can dispatch an Emergency Services team to begin the mitigation process. While awaiting their arrival you should:
Immediately call 911 if there is the possibility of a gas leak.
Turn water off at the main valve. (Typically located next to the curb in front of your house.)
For minor water damages, try to remove as much excess water as possible using a Wet/Dry Vacuum and/or towels.
Q. What can I, as a homeowner, do while the project is being completed?
A. The most important thing you can do is ASK QUESTIONS. If there is something that doesn't look right, or you think you ordered one thing, and something else is being installed, ASK!! As a contractor we want to immediately know if things are not right. There are no dumb questions, remember, IT'S YOUR MONEY.
Q. I understand large retailers and home improvement centers now remodel kitchens, bathrooms, room additions and even roofs. What is the difference between these entities and an Independent Contractor like Unlimited, Inc.?
A. In a word; SERVICE! We are a Preferred Contractor with many retailers and home improvement centers. If you know precisely what you want and can pick it out at the store, we are prepared to work with you to supervise your remodeling project and subsequently the installation and sales department of the store could be a choice.
However, the quality of installation and attention to detail has not always been a trademark of corporate sales and installation department crews. Neither has custom or out of the ordinary work because many unexpected issues can come up during a remodeling project which require a higher level of craftmanship, experience and expertise.
Unforeseen damage or conditions are frequently a daily occurrence and often times the greatest problem involves hardware or other materials. Often times Home Centers do not routinely stock the high quality materials that people will want and should have. In fact, manufactures will make lower quality products to sell to certain stores and retail markets; these lower quality products are then sold to the general public with less than ideal craftsmen. Unlimited, Inc. has the knowledge and experience to deal with these 'issues' in a timely manner to keep your project moving as well as the expertise to get the job done right the first time.
There are situations when a Home Improvement Center might be the right way to go, and there are times when it is best to have a professional handle the COMPLETE job. Each situation can be different so carefully compare the estimates to make certain you get an apples-to-apples comparison. All too often, it usually is not.
Q. Who takes out the Building Permit?
A. Unlimited, Inc. as your contractor will take out all the needed building permits from your specific local city or county. We have all the needed insurances, and licenses to get the needed permits. The average time to have the permit granted is usually about 2-3 weeks.
Q. How will you control dust and handle any mess associated with my job?
A. We are very sensitive about project neatness and cleanliness. We want a clean, neat, and safe jobsite, both inside and out. We will implement interior dust control measures and we strive to remain very vigilant throughout the project. Although remodeling can often be very dusty and dirty, we take many precautions to minimize the inconveniences to our Clients' project.
Q. How do you handle "Change Orders" and upgrades from the original scope of work?
A. Any work that will create an additional charge will be performed only after a written Change Order has been authorized by the Client. We do not wait until the end of a project to spring a surprise of billing "extras" on our Clients and stay on top of extras and credits on a weekly basis as needs require so you are always aware of where you stand on costs.
Unless you have done specific detailed planning, we recommend allowing for upgrades – It's been our experience that the happiest people that go through a construction project are those that allow for "upgrades" in their budget.
We've been in business for over 30 years and have found many people want to refine their original vision once work begins. The possibilities for upgrades are endless, as are peoples' tastes, but the one constant is that those who set aside enough in their budget to allow for this were by far the happiest. We typically recommend that work begin with a projected cost of no more than 80% of your final budget.