Take away the hassle of dealing with multiple contractors, choose Unlimited, Inc. to provide a complete installation solution.
Today's laboratories are designed to provide scientists with a functional, flexible, and safe space. Ideally, lab furniture should be functional, comfortable, and aesthetically pleasing.
We are familiar with most all Laboratory Fabricators' products for your new build or refurbished laboratory projects and offer a total installation service of furniture, casework, countertops and fume hoods with varied accessories and fixtures such as lighting, storage shelves and racks.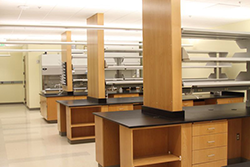 There is such a wide variety of laboratory furniture available that modern labs can easily be fabricated and customized to suit your specific needs with our capable team of installers completing the final stage of your project.
Since laboratory furniture can be manufactured to your specifications and shipped directly, Unlimited, Inc. can deliver comprehensive installation services tailored to your individual schedule and requirements.
Unlimited, Inc. provides laboratory installation services in the following areas:
Research & Industrial Labs
Pharmaceurical & Biotech
Government Research and Hospitals
College & University Science & Research Labs
School Science Labs
Healthcare Laboratories
Laboratory Refurbishment
Lab Construction Solutions
Laboratory Fume Cupboards
Walk-in Fume Cupboards
Laboratory Worktops
Emergency Wash Stations
Laboratory Sinks
Lab Taps & Fittings
Active Desks
Schedule an appointment with us, or call today! 405.820.3170